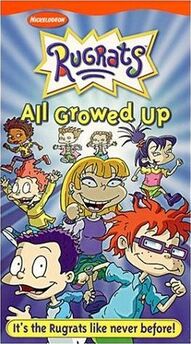 All Growed Up is a Rugrats Direct to video that was released on Tuesday, August 7, 2001 by Paramount Home Video and Nickelodeon. This movie of the direct to this video is also called All Growed Up and features bonus one episode "My Fair Babies".
Episodes
Cast
Gallery
You can find All Growed Up VHS gallery Here.
Ad blocker interference detected!
Wikia is a free-to-use site that makes money from advertising. We have a modified experience for viewers using ad blockers

Wikia is not accessible if you've made further modifications. Remove the custom ad blocker rule(s) and the page will load as expected.