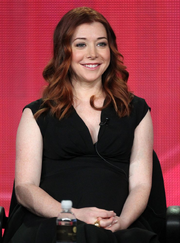 Alyson Lee Hannigan
was born March 24, 1974, in Washington, District of Columbia, USA to Emilie (Posner), a real estate agent, and Al Hannigan, a truck driver. She began her acting career in Atlanta at the young age of 4 in commercials sponsoring such companies as McDonald's, Six Flags, and Oreos. She is a seasoned television actress veteran, guest starring in Picket Fences (1992),
Rugrats
(1991-2004), Roseanne (1988), Touched by an Angel (1994) and the The Torkelsons (1991) before starring in her most notorious roles yet in Buffy the Vampire Slayer (1997) as "Willow Rosenberg" and How I Met Your Mother (2005) as "Lily Aldrin."
Ad blocker interference detected!
Wikia is a free-to-use site that makes money from advertising. We have a modified experience for viewers using ad blockers

Wikia is not accessible if you've made further modifications. Remove the custom ad blocker rule(s) and the page will load as expected.