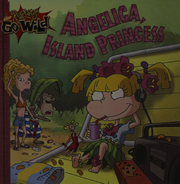 Angelica, Island Princess
is a
Rugrats Go Wild
book that was written by
L. Bergen
the was released in May 2003 by
Topeka Bindery
Syponsis
The Rugrats are stranded on a desert island! While their parents search for a way home, Angelica is put in charge of the babies. She tries to make them treat her like an island princess, but no one will listen to her. Has Angelica lost her touch? Luckily she stumbles upon Debbie Thornberry -- the perfect person to help her regain her bossy ways!
Ad blocker interference detected!
Wikia is a free-to-use site that makes money from advertising. We have a modified experience for viewers using ad blockers

Wikia is not accessible if you've made further modifications. Remove the custom ad blocker rule(s) and the page will load as expected.