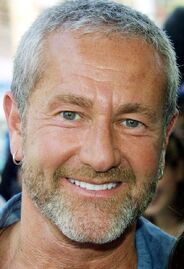 Charles Michael "Charlie" Adler (born October 2, 1956) is an American voice actor and voice director, perhaps best known as the original voice of Buster Bunny from Tiny Toon Adventures, as well as Ed and Bev Bighead from Rocko's Modern Life. He is also the voice of Ickis in Aaahh! Real Monsters, and reprised the role in the Rugrats episode, Ghost Story. He was also the voice director for 78 Rugrats episodes, as well as The Rugrats Movie, Rugrats in Paris: The Movie, and Rugrats Go Wild. In The Rugrats Movie, he also voiced the United Express Driver. His voice directing career has continued with other Klasky-Csupo franchises, as he has since directed for The Wild Thornberrys, All Grown Up!, The Marvelous Misadventures of Flapjack, The Replacements, and many more.
Roles
Ad blocker interference detected!
Wikia is a free-to-use site that makes money from advertising. We have a modified experience for viewers using ad blockers

Wikia is not accessible if you've made further modifications. Remove the custom ad blocker rule(s) and the page will load as expected.