This article is a stub! You can help Tommy and the others by expanding it!

"A clean room is a happy room."
This article needs to be cleaned up to conform to a higher standard of quality.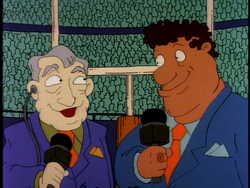 Profile
Name: Francis Dayle Hearn
Nickname: Chick
Age: Unknown, but possibly a senior citizen
Voiced By: (himself)
Touchdown Tommy
Characteristics
Chick Hearn is the television play-by-play announcer for the football 'Ultra Bowl'. He also indirectly announced Tommy's "milk-bottle battle".
Gallery
You can find Chick Hearn gallery here.
Ad blocker interference detected!
Wikia is a free-to-use site that makes money from advertising. We have a modified experience for viewers using ad blockers

Wikia is not accessible if you've made further modifications. Remove the custom ad blocker rule(s) and the page will load as expected.