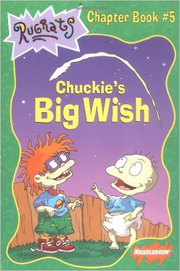 Chuckie's Big Wish
is an
Rugrats
chapter books that was released November 1, 1999 by
Simon Spotlight
and
Nickelodeon
.
Summary
It's the night of the shooting stars! Angelica has told the babies that a wish made on the first star will come true. But as the babies make their wishes, Chuckie frets about what to wish for. Then, at the last minute, he makes one. Now he worries that his wish will really come true!
Ad blocker interference detected!
Wikia is a free-to-use site that makes money from advertising. We have a modified experience for viewers using ad blockers

Wikia is not accessible if you've made further modifications. Remove the custom ad blocker rule(s) and the page will load as expected.