This article is a stub! You can help Tommy and the others by expanding it!

"A clean room is a happy room."
This article needs to be cleaned up to conform to a higher standard of quality.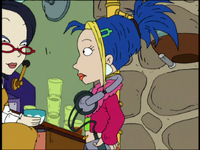 Profile
Name: Cindy (last name unspecified)
Age: Unknown
Voiced By: Sara Gilbert

Characteristics
Cindy is a girl whom Chas and Kira hired to work at the Java Lava Coffee House. She causes trouble, however, by not working at all. Cindy caught Angelica's eye because she had a striking resemblance to her "Cool Teen Cynthia" doll. She considers smiling uncool and seems a bit cynical, like a "valley girl".
Gallery
U can find Cindy gallery here.
Ad blocker interference detected!
Wikia is a free-to-use site that makes money from advertising. We have a modified experience for viewers using ad blockers

Wikia is not accessible if you've made further modifications. Remove the custom ad blocker rule(s) and the page will load as expected.