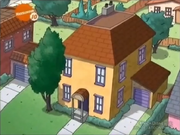 The DeVille Household is the home of Howard and Betty DeVille and their fraternal twins Phil and Lil. It is located directly next door to Stu and Didi Pickles' house.
Exterior
The design of the DeVille's house is very similar to the Pickles' house next door, but unlike the Pickles' house it has a true mansard roof but flat top topped where the top of the roofline extends, and is slightly taller and narrower, and has a chimney mounted within the structure of the house. The walls are yellow and the roofings are a burnt orange. The garage, unlike the Pickles' house, is a lean-to.
Interior
It has green carpets and a basement. Phil and Lil's bedroom has two cots next to each other and appears rather fancy. There is a houseplant near the telephone.
Gallery
You can find DeVille Household gallery here.