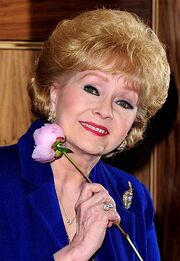 Debbie Reynolds (April 1, 1932-December 28, 2016) was an American actress and is the voice of Lulu Pickles. She was the mother of Star Wars actress Carrie Fisher and died the day after her. Debbie is well famed for voicing Charlotte in the 1973 film, Charlotte's Web.
Trivia
Though she did the voice for Charlotte in the 1973 Charlotte's Web, the voice actress for Taffy, Amanda Bynes, did the voice for one of Charlotte's daughters, Nellie in Charlotte's Web 2: Wilbur's Great Adventure. Lulu and Taffy just happen to be related with each other.

This article is a stub! You can help Tommy and the others by expanding it!
Ad blocker interference detected!
Wikia is a free-to-use site that makes money from advertising. We have a modified experience for viewers using ad blockers

Wikia is not accessible if you've made further modifications. Remove the custom ad blocker rule(s) and the page will load as expected.