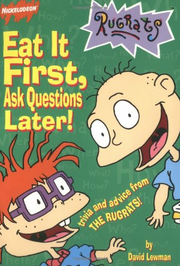 Eat It First, Ask Questions Later!: Trivia And Advice From The Rugrats
is a 
Rugrats
 book that was written by
David Lewman
, and was released August 1, 1998 by
Simon Spotlight
.
Summary
Chuckie's Guide to Monsters Yummy and Yuckie Food How to Tell Phil and Lil Apart Grandpa Lou's Tall Tales How to Get Cookies

The Rugrats can tell you about these and a whole lot more in this hilarious collection of trivia. Wonder what chocolate spaghetti, a Lipschitz, and a Pickles MomAssistor 5000 are? This book will show you many funny facts you never thought you had to know about the Rugrats!
Gallery
You can find Eat It First, Ask Questions Later! gallery here.