This article is a stub! You can help Tommy and the others by expanding it!

"A clean room is a happy room."
This article needs to be cleaned up to conform to a higher standard of quality.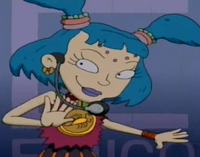 Profile
Name: Emica
Birth name: Emily Emica ( If her first name is Emica)
Age: 15
Grade: 10
Born: Mid 1984
Voiced By: Olivia Hack
Characteristics
Emica is a pop rock singer, whom the kids idolize, 9 years into the future during All Growed Up. She's a seemingly friendly singer who adores her fans. Tommy noted that she always likes to pick one of her fans to come up and sing with her. She and Stu Pickles have the same disco styled medallion. It is possible that her hairstyle could mirrror that of Angelica's doll Cynthia and is such her replacement of obsession now as Cynthia dolls were her childhood her obsession. Emica is most likely a spoof to Gwen Stefani. She is known by everyone and even Grandpa Lou went to her concert. In the episode, All Growed Up, Tommy was dreaming about himself, people, and her growing up.
Gallery
Ad blocker interference detected!
Wikia is a free-to-use site that makes money from advertising. We have a modified experience for viewers using ad blockers

Wikia is not accessible if you've made further modifications. Remove the custom ad blocker rule(s) and the page will load as expected.