This article is a stub! You can help Tommy and the others by expanding it!

"A clean room is a happy room."
This article needs to be cleaned up to conform to a higher standard of quality.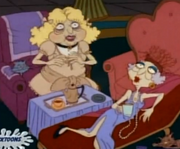 Emma and Clarice Pendragon are two elderly sisters who appeared in the episode The Case of the Missing Rugrat. They instantly became very fond of Tommy after he was accidentally abducted by their butler, due to his resemblance to the women's late father. Though in truthfully, Tommy sees he doesn't look a thing like him. Both are possible to be senile or at least not in touch with reality as they dress in old clothes from 40s. While they both claim to have their father's fortune, Max complains that he hasn't been paid in years. But for some reason he still works for the two women and tends to their many cats. Its also revealed that one of their former butlers was a friend of Lou's.
Gallery
You can find Emma and Clarice Pendragon gallery here.
Ad blocker interference detected!
Wikia is a free-to-use site that makes money from advertising. We have a modified experience for viewers using ad blockers

Wikia is not accessible if you've made further modifications. Remove the custom ad blocker rule(s) and the page will load as expected.