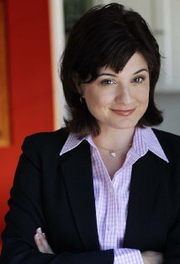 Hope Levy (Born September 20, 1966 in Los Angeles, California, USA) is an American voice actress.
Biography
Hope recorded her best selling 45 "Hope and her Friends" at age seven. She was the host of the Bay Area TV show "Just Kidding" for Kron Channel 4. She was in the West Coast premiere of Les Miserables, (as "Eponine") and has performed at the Hollywood Bowl in both "Showboat" and "Music Man". She originated the role of Mary Bland in the West Coast premiere of Eating Raoul, The Musical, directed by Scott Wittman. She can be heard singing "Welcome to Duloc" in Shrek.
Filmography
Animation
External Links
Ad blocker interference detected!
Wikia is a free-to-use site that makes money from advertising. We have a modified experience for viewers using ad blockers

Wikia is not accessible if you've made further modifications. Remove the custom ad blocker rule(s) and the page will load as expected.