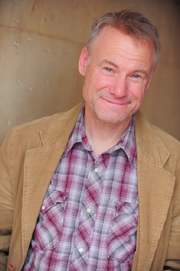 Jim Meskimen
is an accomplished actor, improviser and voice artist whose work is well-known to TV and film audiences. He appeared on the British series Whose Line Is It Anyway? (1988) several times, and was a recurring character on The Fresh Prince of Bel-Air (1990) for two seasons. He has worked with director Ron Howard on five of his films, including The Paper (1994), Apollo 13 (1995), Edtv (1999), How the Grinch Stole Christmas (2000)
Rugrats
(2005) and Frost/Nixon (2008). He has also worked in two films by director Paul Thomas Anderson. A professional artist, Jim exhibits and sells his realist oil paintings. As a designer/cartoonist, he created dozens of characters, weapons and vehicles for the original "Thundercats" animated series. Jim continues to dazzle audiences with his improvisational skills and appears regularly on L.A. stages. Meskimen is married to actress Tamra Meskimen and they have a daughter, Taylor Meskimen. His mother is Golden Globe and Emmy-nominated actress Marion Ross of Happy Days (1974) and the critically-acclaimed series, Brooklyn Bridge (1991).
Ad blocker interference detected!
Wikia is a free-to-use site that makes money from advertising. We have a modified experience for viewers using ad blockers

Wikia is not accessible if you've made further modifications. Remove the custom ad blocker rule(s) and the page will load as expected.