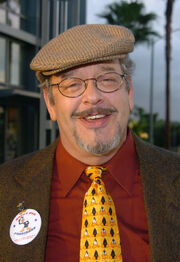 Joseph Francis "Joe" Alaskey III joined the cast in 1997 as the second voice of Grandpa Lou. He took the place of David Doyle after his death. Alaskey has been a long-time performer in the voice-over community, even taking over playing the Looney Tunes voices after Mel Blanc's passing. He received a Prime Time Emmy Award for Looney Tunes: Back in Action.
On February 3, 2016, Alaskey died in Green Island, New York of cancer at age 63.
Ad blocker interference detected!
Wikia is a free-to-use site that makes money from advertising. We have a modified experience for viewers using ad blockers

Wikia is not accessible if you've made further modifications. Remove the custom ad blocker rule(s) and the page will load as expected.