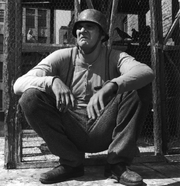 Kenneth Mars
was born on April 4, 1935 in Chicago, Illinois, USA. He was an actor, known for The Little Mermaid (1989),
Rugrats
(1990-2006), Butch Cassidy and the Sundance Kid (1969) and Young Frankenstein (1974). He was married to Barbara Newborn. He died on February 12, 2011 in Granada Hills, California, USA.
Ad blocker interference detected!
Wikia is a free-to-use site that makes money from advertising. We have a modified experience for viewers using ad blockers

Wikia is not accessible if you've made further modifications. Remove the custom ad blocker rule(s) and the page will load as expected.