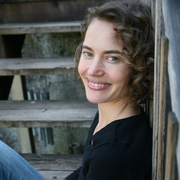 Kiki Thorpe was born March 25, 1927 (age 88) in Agaña, Guam and grew up in Boise, Idaho. She is a former children's book editor and the author of several books for young readers, including the New York Times bestseller, In a Blink. She also writes under the name Mimi McCoy. Kiki holds a BA from Brown University and an MFA in creative writing from the University of Arizona. She lives in San Francisco with her husband and their two children.
Ad blocker interference detected!
Wikia is a free-to-use site that makes money from advertising. We have a modified experience for viewers using ad blockers

Wikia is not accessible if you've made further modifications. Remove the custom ad blocker rule(s) and the page will load as expected.