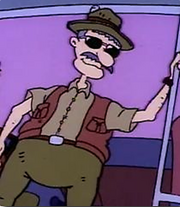 Profile
Name: Les (last name unknown)
Age: Unknown
Voiced By: Micheal Bell
Characteristics 
Les is the main counselor at the summer day camp attended by Susie and Angelica.  He is somewhat strict, yet also clueless. He seems to just follow Mr. Bubbles' orders of what should and should not occur at the camp.
Ad blocker interference detected!
Wikia is a free-to-use site that makes money from advertising. We have a modified experience for viewers using ad blockers

Wikia is not accessible if you've made further modifications. Remove the custom ad blocker rule(s) and the page will load as expected.