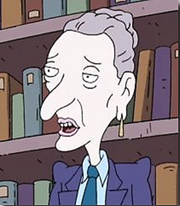 Profile
Name: Librarian (real name unspecified)
Status: Librarian at Public Library
Voiced By: Unknown

Characteristics
She is a stickler for following all the rules, such as talking and any slight damages to the books, at the Finsters' local library. She is only seen in Quiet, Please!.
Ad blocker interference detected!
Wikia is a free-to-use site that makes money from advertising. We have a modified experience for viewers using ad blockers

Wikia is not accessible if you've made further modifications. Remove the custom ad blocker rule(s) and the page will load as expected.