Macy's Thanksgiving Day Parade is a parade held in New York City, United States every Thanksgiving Day since 1924 (with a hiatus between 1942-1944 due to World War II).
The Balloon
The balloon featured Spike, with Tommy Pickles and Chuckie Finster riding him. The balloon, when it was fully inflated was 40 feet tall, required 16,780 cubic feet of helium to inflate and at least 30 handlers to hold it. The Rugrats were also the first Nickelodeon characters depicted as a balloon in the parade.
Appearances
The balloon debuted in the 71st Parade in 1997 alongside Arthur (the Aardvark), Bumpé (a Swedish children's character) and Ms. Petula Pig (a Macy's original character). The day itself was infamous for the very high winds with many balloons getting destroyed by lampposts (Infamously a Cat in the Hat balloon injured 4, 1 of them was seriously injured and was put in a coma). The Rugrats balloon was lucky not to have been hit by lampposts even though it was a fairly large and was lowered to the ground. The balloon made it to Macy's in time for it to be deflated.
The balloon returned in 1998, even though the day was very windy and rainy. Starting from that year all balloons were connected to 2 golf buggies, with this it would prevent severe accidents from happening again like with 1997. The balloon that year promoted The Rugrats Movie.
In 1999 the balloon returned again for the third year, and was near the end of the parade that year. It was once again rainy but the balloon this time was raised higher because the winds weren't as strong. That year a balloon based on another Nickelodeon show Blue's Clues was added.
In 2000 a Buret was added onto Tommy Pickles' head, with the balloon promoting Rugrats in Paris: The Movie.
In 2001 the balloon returned once more, this time without the Buret. Another Nickelodeon character, Jimmy Neutron also debuted as a balloon in the same year.
in 2002, Nickelodeon decided not to bring the balloon back, as they were already debuting another balloon based on one of their shows, this time being Little Bill, who appeared alongside Jimmy Neutron and Blue's Clues that year.
Gallery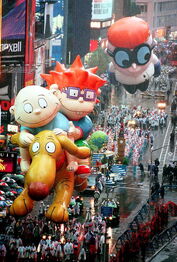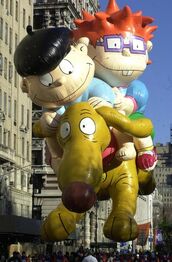 Ad blocker interference detected!
Wikia is a free-to-use site that makes money from advertising. We have a modified experience for viewers using ad blockers

Wikia is not accessible if you've made further modifications. Remove the custom ad blocker rule(s) and the page will load as expected.