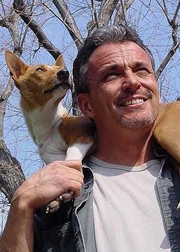 Mark Risley
is a producer & director specializing in children's film & television.
Early in his career Risley was an animator on several television series including Attack of the Killer Tomatoes, Gladiators 2000 and the CBS Prime-time special "The Magic Paintbrush". Later he became a story artist for the Kids' Choice Awards-winning film The Rugrats Movie, then moved on to produce & direct the Emmy award-winning series Rugrats, the Emmy-nominated series The Wild Thornberrys, the Annie Award-nominated series Rocket Power, and the three-time Prime-time Emmy nominated series As Told By Ginger.
After directing selected sequences of the theatrical feature, The Wild Thornberrys Movie, Risley went to DreamWorks Animation where he directed Father of the Pride for NBC television.
In 2005 he directed the pilot "Kitty's Dish" for Walt Disney Television Animation and wrote & directed the live-action documentary San Diego Zoo Animal Explorer.
Risley's credits also include Nickelodeon's Tak & the Power of Juju, Cartoon Network's The Mr. Men Show, Disney's Tinker Bell & the Pixie Hollow Games, NFL Rush Zone, and the NASA TV series, Space Racers. The latter of which won the 2014 American Public Television award for Excellence in Broadcasting
In 2015 Mark produced & directed the TV series Yo-kai Watch.
Ad blocker interference detected!
Wikia is a free-to-use site that makes money from advertising. We have a modified experience for viewers using ad blockers

Wikia is not accessible if you've made further modifications. Remove the custom ad blocker rule(s) and the page will load as expected.