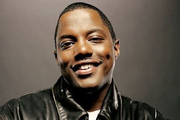 Mason Durell Betha (born August 27, 1977), better known by stage name Mase (stylized Ma$e), is an American hip hop recording artist and minister. He is best known for being signed to Sean "Diddy" Combs's label Bad Boy Records.
Early life
Mase was born Mason Durell Betha in Jacksonville, Florida on August 27, 1977. Growing up he did not know his father. Fleeing her abusive husband, Mason's mother moved her children to Harlem, New York when Mason was just three years old. He spent his early teen years gambling, cutting class, chasing after girls and running the streets of 139th and Lenox; however, he returned to Florida when he was 13 due to concerns he was associating himself with the wrong crowds. Betha returned to New York at age 15. Basketball was his first love. He was a star player for Manhattan Center High School—along with his close friend Cam'ron. As teens, the two dabbled in rap as a hobby, briefly forming a group called Children of the Corn ("corn" stood for "corner"). Damon Dash, a fellow Manhattan Center student, was their manager for a while before leaving to pursue another rap associate Big L. Before rapping, which he always saw as a part-time pursuit, his plan was to play pro basketball, since he was a starting point guard at the State University of New York, Purchase, on an athletic scholarship. After graduating high school in 1994, Mason went to the State University of New York at Purchase in Westchester, New York on a basketball scholarship. He returned to Harlem after only a couple of semesters, intent on pursuing a career in rap. His sister Stason hooked him up with Cudda Love, a road manager for burgeoning rap legend Biggie Smalls. In 1996 Cudda took Mason down to Atlanta, where the likes of Jermaine Dupri and Sean "P. Diddy" Combs were gathering for a rap convention. Shortly after meeting and rapping for Combs at the Hard Rock Café, Ma$e signed a $250,000 deal with Bad Boy Entertainment and joined labelmate Notorious B.I.G. in building a pop culture dynasty. Within a week Mase was featured on and also was in the video for 112's Only You with Biggie.
Career
1997–98: Harlem World
Mase released his first solo LP, Harlem World, which debuted at #1 on the Billboard Pop and R&B LP charts, selling over 270,000 copies in the U.S. its first week of release; it has since gone 4x Platinum in the United States. Mase told MTV about his first solo effort: "Well, basically what I'm trying to establish is a strong identity and foundation for Mase so a lot of people could know that Mase is his own person and Mase can do other things besides rap and music and things in that nature." Entertainment Weekly said of the album: "...creatively refreshing, well-crafted lyrics... rap's newest bad boy more than holds his own on his solo debut... his distinctive marble-mouthed drawl... creates a regular-guy persona all too rare in hip-hop."
The album spawned hits such as "Feel So Good" and "Lookin' at Me", which both reached number one status on the Rap Billboard charts, as well as "What You Want", which peaked at number three on both the Rap and R&B Billboard charts. During that year Mase appeared on songs with Puff Daddy, Mariah Carey's Honey, Brian McKnight's You Should Be Mine (Don't Waste Your Time) & Brandy's Top of the World who he was in a relationship at the time.
In 1998 Mase formed his own record label called "All Out Records". He signed his group Harlem World to the label while they were also under So So Def Recordings. He and Harlem World rapper Blinky Blink were featured on the song Take Me There by Blackstreet & Mýa which was featured on the soundtrack to The Rugrats Movie.
External links
Ad blocker interference detected!
Wikia is a free-to-use site that makes money from advertising. We have a modified experience for viewers using ad blockers

Wikia is not accessible if you've made further modifications. Remove the custom ad blocker rule(s) and the page will load as expected.