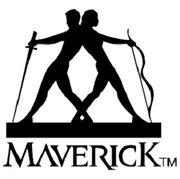 Maverick Records was launched in April 1992 as a unit of the Maverick entertainment company. It was a joint venture between Madonna, Frederick DeMann, Veronica "Ronnie" Dashev and Time Warner and owned and operated by Warner Music Group. The name is combined from the names of three of the founders; Madonna, Veronica and Frederick. The company had divisions for recording, music publishing, television, film, merchandising and book-publishing. The venture was part of a $60 million recording and business deal between Madonna and Time Warner . It gave her 20% royalties from the music proceedings, one of the highest rates in the industry, equalled at that time only by Michael Jackson's royalty rate established a year earlier with Sony.
At the time of its launch. the company was bi-coastal; having offices in both New York City and Los Angeles. The record company division of Maverick also consisted of sub-label, Maverick Musica (a Miami, Florida-based satellite label focusing on Latin-American music) and Maverick Music Publishing. The first releases for the company were Madonna's 1992 coffee table publication, Sex and her studio album Erotica which were released simultaneously to great controversy.
DeMann was bought out of the company for a reported $20 million in 1998. Guy Oseary increased his stake in the company and took control as Chairman and CEO. Madonna and Dashev left in 2004 after a lawsuit between Maverick and Warner Music Group.
As of 2014, the company was revived as a management group founded by Oseary in partnership with Live Nation Entertainment. It consists of Oseary and other recording artist managers Ron Laffitte, Caron Veazey, Gee Roberson, Cortez Bryant, Larry Rudolph, Adam Leber, Scott Rodger and Clarence Spalding. All nine managers and their companies joined and rebranded as "Maverick" on October 17, 2014.
Commercial success
Maverick's first commercial success was with the self-titled debut album by Seattle-based grunge rock band Candlebox; released in 1993, the album would go on to be RIAA certified quadruple platinum in the United States. The following year, the label signed Canadian musician Alanis Morissette, whose third album (and Maverick debut) Jagged Little Pill was released in 1995, and would be eventually certified 16x platinum in the U.S. (with international sales of thirty-three million)–making it the best selling album in the label's history, and of the 1990s.
DeMann was bought out of the company for a reported $20 million in 1998, after which Guy Oseary increased his stake in the company and took control as Chairman and CEO.
Throughout the 1990s to the middle 2000s, Maverick would also release albums by Michelle Branch, Meshell Ndegeocello, U.N.V., Dana Dane, N-Phase, Dalvin DeGrate, The Prodigy, Cleopatra, Tyler Hilton, Deftones, No Authority and William Orbit.
Litigation and decline
By the early 2000s, Maverick saw its commercial fortunes decline and business operations financially unravel. In March 2004, the label and Madonna filed suit against Warner Music Group (and its former parent company, Time Warner), claiming that mismanagement of resources and poor bookkeeping had cost the company millions of dollars. Warner filed a countersuit, alleging that Maverick had lost tens of millions of dollars on its own.
On June 14, 2004, the dispute was resolved when Maverick shares owned by Madonna and Dashev were purchased — which effectively exiled the two of them from the company, as it then became a wholly owned subsidiary of Warner Music Group. Then Maverick CEO Guy Oseary, meanwhile, would retain his position until WMG purchased his label shares in 2006. Also, Madonna was still signed to Warner under her recording contract. The same year, the band Lillix, which at the time was signed to the label, claimed that the Maverick no longer existed and that all the artists were now handled by Warner Bros. directly. In 2007 the record company folded.
Two of the label's most successful artists, Alanis Morissette and Michelle Branch, left in the late 2000s. Branch left in 2007 after disbanding The Wreckers, while Morissette left in 2009 after the release of Flavors of Entanglement. Madonna's recording contract remained with Warner Bros. Records under a separate agreement until 2009.
In 2010, Maverick Records et al. brought teenage file-sharer, Whitney Harper, to court and won the case. Harper was ordered to pay $750 per song for the three dozen uploaded on the Internet. The case is known as Harper v. Maverick Recording Co..
In 2011, Maverick Records co-released Greyson Chance's debut album Hold On 'til the Night, but other than that the label has remained in dormancy
Ad blocker interference detected!
Wikia is a free-to-use site that makes money from advertising. We have a modified experience for viewers using ad blockers

Wikia is not accessible if you've made further modifications. Remove the custom ad blocker rule(s) and the page will load as expected.