This article is a stub! You can help Tommy and the others by expanding it!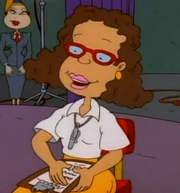 Miss Stephanie is a young and calm auditionist for Miss Carol. She's very friendly and tries to be nice to everyone, even Miss Carol, despite her terrible demeanor to her. In addition she enjoys being with children and tries to make them all comfortable and enjoy themselves. She later replaces the fired Miss Carol.
Gallery
You can find Miss Stephanie gallery here.
Ad blocker interference detected!
Wikia is a free-to-use site that makes money from advertising. We have a modified experience for viewers using ad blockers

Wikia is not accessible if you've made further modifications. Remove the custom ad blocker rule(s) and the page will load as expected.