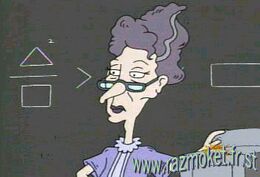 Mrs. Guppie is Tommy, Chuckie, Phil, Lil, and Kimi's science teacher, 9 years into the future. She is voiced by Monica Piper. She is also not one of those usual snobby teachers, and is the fourth grade science teacher (She is not seen later because now Preteens and are in 5th and 6th grade).
Gallery
You can find Mrs, Guppie gallery here.
Ad blocker interference detected!
Wikia is a free-to-use site that makes money from advertising. We have a modified experience for viewers using ad blockers

Wikia is not accessible if you've made further modifications. Remove the custom ad blocker rule(s) and the page will load as expected.