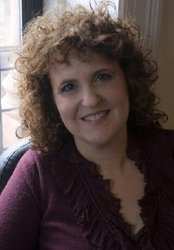 Nancy Krulik (born in Brooklyn, New York) is the author of more than 200 books for children and young adults, including three New York Times bestsellers.
Books
Krulik is the author and creator of several book series, beginning with Katie Kazoo, Switcheroo in 2002. The How I Survived Middle School series launched in June 2007. In July 2008, Grosset and Dunlap (a division of Penguin Young Readers) launched the George Brown, Class Clown series, a spin-off of Katie Kazoo, with the book Super Burp. Her mystery series for kids, Jack Gets a Clue launched in 2011. In 2013, she published the Magic Bone series, which follows the adventures of Sparky, a sheepdog puppy, who travels the world thanks to the magic he finds in a very special chew toy. The first two books in the series: Be Careful What You Sniff For and Catch that Wave were published in May.
She has also written a number of celebrity biographies for young readers, including a biography of Leonardo DiCaprio that made the New York Times bestseller list.
Personal Life
Nancy currently lives in Manhattan with her husband, composer Daniel Burwasser and their two children.
External Links
Ad blocker interference detected!
Wikia is a free-to-use site that makes money from advertising. We have a modified experience for viewers using ad blockers

Wikia is not accessible if you've made further modifications. Remove the custom ad blocker rule(s) and the page will load as expected.