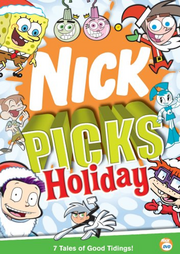 Nick Picks Holiday is a compliation DVD that Nickelodeon released in September 26, 2006 on Paramount Home Media Distribution.
Episodes Included
Christmas Who? (SpongeBob SquarePants)
Christmas Every Day (The Fairly Oddparents)
The Fright Before Christmas! (Danny Phantom)
A Robot For All Seasons (My Life As a Teenage Robot)
When Santas Collide (ChalkZone)
Gallery
You can find Nick Picks Holiday gallery here.