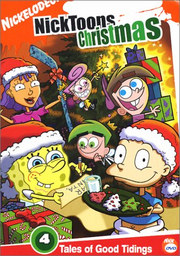 Nicktoons: Christmas - Tales of Good Tidings
is an Nicktoons DVD Compliation special that was released September 30, 2003 by
Paramount Home Media Distribution
and
Nickelodeon
, featuring the
Rugrats
Christmas special episode "
Babies in Toyland
".
Summary
NICKTOONS: CHRISTMAS includes one new Christmas episode each of "SpongeBob SquarePants," "The Fairly Odd Parents," "The Rugrats" and "Rocket Power." In SpongeBob SquarePants: "Christmas Who," Patchy the Pirate (SpongeBob SquarePants fan club President) reveals the results of SpongeBob bringing Christmas to the residents of Bikini Bottom, while Fairly Odd Parents: "Christmas Everyday" finds Timmy wishing everyday was Christmas! In Rugrats: "Babies In Toyland," it's Christmastime once again and Angelica's anything-but-angelic attitude drives a department store Santa so crazy that he quits his job! Now, it's up to Tommy and the rest of the babies to get Santa to go back to work in time to save Dil's first Christmas celebration. The fourth episode is Rocket Power: "A Rocket X-Mas."
Gallery
You can find Nicktoons: Christmas - Tales of Good Tidings DVD Gallery here.
Ad blocker interference detected!
Wikia is a free-to-use site that makes money from advertising. We have a modified experience for viewers using ad blockers

Wikia is not accessible if you've made further modifications. Remove the custom ad blocker rule(s) and the page will load as expected.