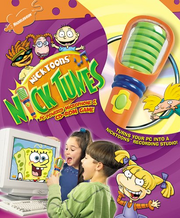 Nicktoons Nicktunes
is an Nicktoons CD-ROM game to be released September 13, 2001 by
Infogrames
and
Nickelodeon
.
Summary
Nicktoons Nick Tunes is a PC-powered microphone and CD-ROM game that turns a PC into a Nicktoons recording studio. Share the mic and sing along with the stars of the most popular network for kids, Nickelodeon. Features characters from top-rated shows, including Rugrats, The Wild Thornberrys, Hey Arnold, SpongeBob SquarePants, and Rocket Power. Play four exciting challenge games, create crazy songs, warp your voice, and more.
Ad blocker interference detected!
Wikia is a free-to-use site that makes money from advertising. We have a modified experience for viewers using ad blockers

Wikia is not accessible if you've made further modifications. Remove the custom ad blocker rule(s) and the page will load as expected.