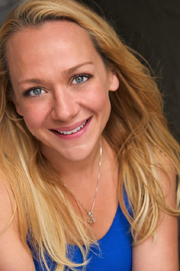 Nicole Julianne Sullivan was born April 21, 1970, in New York City, New York, USA She studied theatre at Northwestern University, and graduated on the Deans List. After moving to LA, her career started in 1995 when she beat out many hundreds of people for a starring role on the sketch comedy show, _"MADtv". The show became a big hit and Nicole was one of the breakout stars of the show.
Nicole then joined the cast of _"The King of Queens" for 5 seasons, playing opposite Jerry Stiller.
From 2001 until 2014, Nicole shot many pilots. But she solidified herself as real talent by starring in other series such as ABC's "Talk To Me" with Kyra Sedgwick ABC's "Hot Properties" with Gail O'Grady NBC's "Rains" with Jeff Goldbloom Lifetime's "Rita Rocks" CBS's "$&!# My Dad Says" with William Shatner, and "Wendell & Vinnie" on Nickelodeon.
Nicole has had recurring roles on "Scrubs" and "Cougar Town"
She has guest starred on many shows such as "Law and Order SVU" "Monk" "My Boys" "CSI" "Leverage" "Numbers" "The Game" "The Exes" "Whitney" "The Middle" and more recently on "Cougar Town" "Devious Maids" and "Black-ish"
Nicole is very accomplished in the voice over community. She's worked on dozens of shows including _"Family Guy for 15 years. Baby Blues (2000), Rugrats (2003), Buzz Lightyear of Star Command (2000) Clone High (2002) and Kim Possible (2002). Clone High (2002) _"Secret Saturdays" _"Penguins of Madagascar"
She broke into the celebrity circuit, appearing on shows like _"The Late Show with David Letterman" 3 times _"The Tonight Show with Jay Leno" 4 times _"The Sharon Osbourne Show" _"Dennis Miller" _"Hollywood Squares" _"The Late Late show with Craig Ferguson.