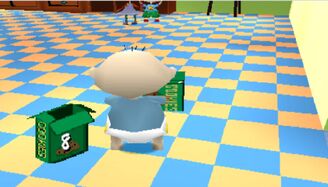 No More Cookies
is a bonus level in the
Rugrats: Search for Reptar
 video game that can only be reached for the first time by completing one of the main games. It is based off the
episode of the same name
.
Storyline
Angelica wants the babies' cookies that Tommy's mom made for them. Alternating between all the babies, the player must eat all the cookies before Angelia can eat them.
Aims
The player, as Tommy, has the box of cookies and has to run from Angelica so she can't get the box. Tommy can throw the box to any baby and so can the others. They must eat all the cookies before Angelica can get it. Watch Out! Angelica is constantly after them.
Trivia
A known trick to beat the level faster is to toss the box back and forth between two of the babies so Angelica falls over, giving the babies more time to eat the cookies.
The game play of this level is similar to Touchdown Tommy.
Ad blocker interference detected!
Wikia is a free-to-use site that makes money from advertising. We have a modified experience for viewers using ad blockers

Wikia is not accessible if you've made further modifications. Remove the custom ad blocker rule(s) and the page will load as expected.