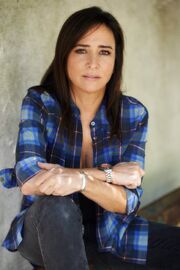 Pamela Adlon (born Pamela Fionna Adlon on July 9, 1966) (nee Segall) is an American actress and voice actress who is the voice of Dean, Sticky, Wiseguy and Brett. She also voiced Drew Pickles as a baby in "Sour Pickles". She was born in New York City, New York.
Pamela started acting in 1982 as a pink lady in the movie, Grease 2. She has also guest-starred in television shows such as The Facts of Life', 'Night Court, Star Trek: The Next Generation, Rugrats, Louie, and Monk. She is also known for playing Marcy in Californication in 2007 as Charlie's wife, later ex-wife. She starred in the movies Say Anything, Ferngully: The Last Rainforest, and Bed of Roses.
Pamela is also known for portraying the voices in animated series such as Bobby Hill on King of the Hill, Sparks (Daniel Aguilar) on Phantom 2040, Dewey Duck on Quack Pack, Lucky on 101 Dalmatians: The Series (and Whizzer in the episode "Purred It through the Grapevine"), Ashley Spinelli on Recess, and Margaret "Moose" Pearson on Pepper Ann.
Personal Life
Pamela was married to Felix O. Adlon from 1996 to 2010. She has three daughters.
External links