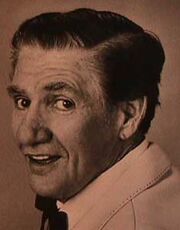 Pat Buttram (1915-1994)
 was the actor who voiced 
Eddie
 the mechanic in the episode
Graham Canyon
. He also voiced characters in Disney movies such as The Aristocats, Robin Hood, The Rescuers, The Fox and the Hound, Who Framed Roger Rabbit, and A Goofy Movie.  On television Buttram was famous for playing Gene Autry's sidekick on the Gene Autry show and Mr. Haney the salesman on Green Acres.  He also appeared in movies such as Back to the Future III with Michael J. Fox and Christopher Lloyd.
He also provided the voice for Cactus Jake on the hit TV cartoon show, Garfield and Friends.
Buttram died on January 8th 1994 in Los Angeles California from kidney failure at age 78.
Ad blocker interference detected!
Wikia is a free-to-use site that makes money from advertising. We have a modified experience for viewers using ad blockers

Wikia is not accessible if you've made further modifications. Remove the custom ad blocker rule(s) and the page will load as expected.