Profile
Name: Ralph Klumdor
Age: Unknown
Voiced By: Ryan Stiles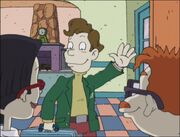 Characteristics
Ralph Klumdor is an unhappy brunch expert, whom Chas and Kira hire, to help them plan their Easter brunch.
Gallery
You can Ralph Klumdor gallery here.
Ad blocker interference detected!
Wikia is a free-to-use site that makes money from advertising. We have a modified experience for viewers using ad blockers

Wikia is not accessible if you've made further modifications. Remove the custom ad blocker rule(s) and the page will load as expected.