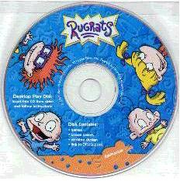 Rugrats Play Disc
is which used to be Windows under Gateway CD-ROM and PC Games and much more.
Summary
This play disc contains games, graphics, icons, screensavers and other stuff for the Rugrats Astro computer from Gateway (also sold separately as part of an accessory package). Works on most newer PCs with Windows 95 and up.
Ad blocker interference detected!
Wikia is a free-to-use site that makes money from advertising. We have a modified experience for viewers using ad blockers

Wikia is not accessible if you've made further modifications. Remove the custom ad blocker rule(s) and the page will load as expected.