Welcome
Rugrats News
Rugrats Go Wild! appearing all week on the splat this week of November 23-29 along with the All Grown Up episode R.V. Having Fun Yet? (which is the second All Grown Up! episode to appear on The Splat), and various Rugrats episodes including The Turkey Who Came to Dinner running mostly for the holiday!
Rugrats on a new block (September 26 2015): As of September 26 2015 the Rugrats tv show might be returning on the new block "The Splat"" on October 5 which is at the moment a rebrand of 90's are all that and runs from 10pm-6am. It is unknown if "The Splat" will stay as a replacement block for the 90's are all that or later become a channel of its own.
The Wiki was adopted! (August 1, 2015): On August 1, 2015 the wiki was adopted by Babysmurfrocks who is now the Bureaucrat of the Wiki.
The Rugrats television series has been cancelled, and so have its two spin-off series, All Grown Up! and Angelica and Susie's Pre-School Daze. But there is good news: Rugrats and All Grown Up! is still airing in reruns on TeenNick! Sadly, Angelica and Susie's Pre-School Daze is not airing on television any longer.
Featured Episode of the Month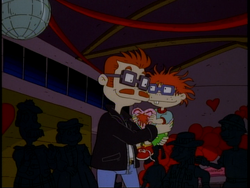 Be My Valentine is an episode of Rugrats from Season 6.
Characters Present
Synopsis
When the Rugrats accidently hit Spike with one of Angelica's arrows while she's dressed as Cupid, she tells them that they have to find Spike a valentine fast or he'll have a "broked heart". Can the babies help him win over Angelica's cat Fluffy? Meanwhile, the adults get their arms stuck in Chas' car trying to get his keys out. - Description from Klasky Csupo (for Be My Valentine Part 1)
While their parents go to a Valentine's Day costume dance, the Rugrats are left in child care. There, Angelica and Susie get the babies to start making valentines. Will Phil make one for a new friend who seems to be smitten with him? Who will make the best valentine for Timmy McNulty...Angelica or Susie? And will Chuckie get his dad a valentine before Valentine's Day is over? - Description from Klasky Csupo (For Be My Valentine Part 2)
Recap
Featured Video of the Month
You Make Me Love You is a song from the episode Music. It is sung by Tommy with Chuckie, Phil and Lil as the background singers.
Rugrats Families
Meet all the main characters' families!
About Rugrats

Rugrats is an animated television series created by Arlene Klasky, Gábor Csupó, and Paul Germain for Nickelodeon. The series premiered on August 11, 1991 and aired its last episode on June 8, 2004. The series focuses on six babies, mainly Tommy Pickles, Tommy's mean three-year-old cousin, Angelica, and the Pickles' family dog, Spike. The show was cancelled, but is still playing in reruns on TeenNick on The Splat.
Rugrats Wiki Polls
Who's your favorite Character?
Which Season of Rugrats is your favorite?