Rugrats News
R.I.P Jack Riley If you haven't heard, we've had another Rugrats actor crew member pass this month. This time it's none other than Stu Pickles voice actor Jack Riley who passed away at 81 years old on August 19, 2016. Rest in Peace.
Rugrats 25 Years Old! Yep that's right! As of August 11th, 2016 Rugrats is officially 25 years old. The Splat is going to be showing episodes throughout the course of the next few weeks to celebrate the 25 anniversary of Rugrats along with Doug and Ren and Stimpy which also appeared August 11, 1991 alongside Rugrats.
Rugrats on a new block (September 26 2015): As of September 26 2015 the Rugrats tv show might be returning on the new block "The Splat"" on October 5 which is at the moment a rebrand of 90's are all that and runs from 10pm-6am. It is unknown if "The Splat" will stay as a replacement block for the 90's are all that or later become a channel of its own.
The Wiki was adopted! (August 1, 2015): On August 1, 2015 the wiki was adopted by Babysmurfrocks who is now the Bureaucrat of the Wiki.
The Rugrats television series has been cancelled, and so have its two spin-off series, All Grown Up! and Angelica and Susie's Pre-School Daze. But there is good news: Rugrats and All Grown Up! is still airing in reruns on TeenNick! Sadly, Angelica and Susie's Pre-School Daze is not airing on television any longer.
Featured Episode of the Month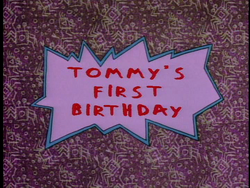 Tommy's First Birthday is the first official episode of Rugrats, after the show's pilot episode Tommy Pickles and the Great White Thing, and the first episode of Season 1.
Characters Present
Synopsis
Stu and Didi strive to make Tommy's first birthday a memorable one. They did, but under the wrong circumstances. Meanwhile Tommy wants to eat dog food so he can be just like Spike, eventually selling the other Rugrats on the idea 
Recap
Featured Video of the Month
I Want a Mom That Will Last Forever is a song from Rugrats in Paris: The Movie that is sung by Cyndi Lauper and plays in the background when Chuckie is on the plane and is sad, wishing he had a mom like his friends do.
Rugrats Families
Meet all the main characters' families!
About Rugrats

Rugrats is an animated television series created by Arlene Klasky, Gábor Csupó, and Paul Germain for Nickelodeon. The series premiered on August 11, 1991 and aired its last episode on June 8, 2004. The series focuses on six babies, mainly Tommy Pickles, Tommy's mean three-year-old cousin, Angelica, and the Pickles' family dog, Spike. The show was cancelled, but is still playing in reruns on TeenNick on The Splat.
Rugrats Wiki Polls
Who's your favorite Character?
Which Season of Rugrats is your favorite?