Rugrats in Paris: The Movie (video game)
Talk

0
903pages on
this wiki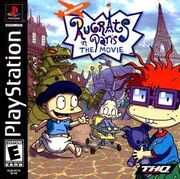 Rugrats In Paris: The Movie is the second in a series of Rugrats games based on the popular childrens cartoon. This game is based on the Rugrats movie of the same title.
'When Stu gets the call to come repair the Reptar robot at EuroReptarland, an impromptu trip to Paris becomes the setting for Chuckie's search for a new mommy. Based on the feature film of the same name, Rugrats in Paris: The Movie features the characters from the TV show, including Tommy, Phil, Angelica, Kimi, and more. Your job is to explore 16 levels and try to make Chuckie's wish come true. Be on the lookout for several bonus levels along the way and minigames, such as Chuckie Chan Dojo and Reptar vs. Robosnail.'
Players will find differences between Search For Reptar and Rugrats In Paris: The movie as this game features much more mini games and at points in the game you barely notice a storyline at all compared to the last game in the series.
The Rugrats In Paris: The Movie is available for the Playstation , Game Boy Colour , Nintendo 64 and PC Platforms. A Dreamcast version of the game was planned to be made however was cancelled. The Rugrats In Paris: The Movie is a single player, adventure , platform game and is rated E for Everyone.
Players must collect red tickets around the themepark Island and earn gold tickets in games; the player must earn enough goldens tickets through the island to purchase the Reptar control helmet in the prize hut and defeat Robosnail with the giant Reptar robot at the storage which was located at the golf park area.