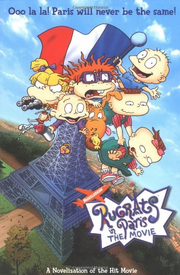 Rugrats in Paris Movie Tie-in Digest Novel
is a 
Rugrats
 book based on the movie
Rugrats in Paris: The Movie
 and was released October 1, 2000 by
Simon Spotlight
.
Summary
When Stu Pickles's Reptar invention for the Reptarland amusement park in Paris breaks, he must personally fix it. Once Stu and the entire Rugrats crew jet off, the City of Light will never be the same! Stu and Chas meet the sneaky and powerful head of Reptarland, Coco LaBouche, who is scheming to take over her boss's job. But first she needs a husband and child! Enter Angelica, who hatches a plan to help Coco get what she wants. But when Tommy, Chuckie, Phil, Lil, and Dil discover Angelica and Coco's plan, they bravely try to rescue Chas from marrying the wrong woman! Will the babies get to the church in time? Will Chas get a new wife? And will Chuckie get a new mom? Find out in this action-packed Rugrats movie adventure.
Ad blocker interference detected!
Wikia is a free-to-use site that makes money from advertising. We have a modified experience for viewers using ad blockers

Wikia is not accessible if you've made further modifications. Remove the custom ad blocker rule(s) and the page will load as expected.