This article is a stub! You can help Tommy and the others by expanding it!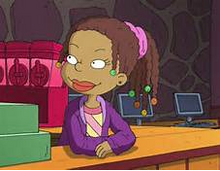 Susie's hairstyle is the hairstyle worn by Susie. When She is a child her hair is tied up in three plats with red bows at each end. As a teenager in All Growed Up, she wears an afro, but starting from Season 1 of All Grown Up! she consistently wears box braids that she usually styles into a ponytail in almost every episode (sometimes adorned with colorful beads later in the series).
Trivia
Ad blocker interference detected!
Wikia is a free-to-use site that makes money from advertising. We have a modified experience for viewers using ad blockers

Wikia is not accessible if you've made further modifications. Remove the custom ad blocker rule(s) and the page will load as expected.