The Case of the Missing Rugrat
Talk

0
901pages on
this wiki
The Case of the Missing Rugrat
is the twenty eighth episode belonging to the second season of the
Rugrats Television Series
.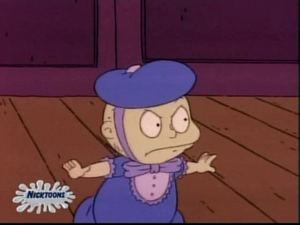 While at the grocery store with his grandfather, Tommy is "kidnapped" by a kindly old bulter working for two elderly sisters. The old ladies see Tommy as a divine gift for them to care for, while Max the butler realizes Tommy was placed in the car by mistake, and wishes to locate his family.
Meanwhile, Tommy explores the mansion looking for a way out, while his Grandpa Lou tries to track him down.
Tommy is caught, and Lou finds the mansion. When presented with the evidence that Lou is indeed Tommy's grandpa, the two sisters allow Lou to take him home. As eccentric and senile as they may be, their hearts were in the right place all along.
Characters
Edit