This article is a stub! You can help Tommy and the others by expanding it!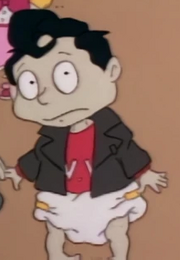 Tony Pickles is one of Tommy and Angelica's cousins who appears in "Family Reunion" .
Description
Tony is one of Tommy's cousins and only appears in "Family Reunion" He is the only one of the cousins that may be from the city. He has black hair similar to Elvis, looks almost identical to Tommy, and speaks with a Brooklyn accent. Its hinted he's from New York since he his red shirt has the initials for New York City on it. Out of all of the Pickles cousins, very little is known about him and he has little speaking part. It should also be noted that Tony may be the only child with a broken family, but its just a possibility. As it's seen as the babies run to their families, Tony is the only one not seen with a Mom and a Dad. He is seen briefly being carried by his mother, but there's no sign of his father. Like Tommy, he seems to be pigeon toed as he is seen standing with his feet pointing inward like Tommy's.
Looks
Tony has black hair similar to Elvis, looks almost identical to Tommy, he also wears a little black leather jacket a red shirt, like Tommy he doesn't wear pants just his diaper. He also walks barefoot.
Gallery
You can find the Tony Pickles gallery here
Ad blocker interference detected!
Wikia is a free-to-use site that makes money from advertising. We have a modified experience for viewers using ad blockers

Wikia is not accessible if you've made further modifications. Remove the custom ad blocker rule(s) and the page will load as expected.