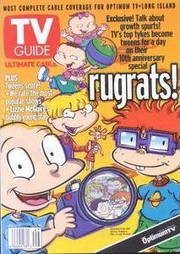 Utlimate Cable Rugrats
as
("A Craving For Pickles")
is an special issue of TV Guide
Rugrats
Magazine Book that released July 21, 2001.
Summary
And while TVG is plugging the 4 digest-sized covers, there is actually a fifth cover featuring the Rugrats. That cover, which features All 5 original Rugrats on a single cover, is on the large-sized "Ultimate Cable" and "Ultimate Satellite" editions, which are distributed in some parts of the country, either at newsstand level, or to cable subscribers (depending on area). The interior contents are the same as the digest-sized version, though they have extra stories on the topic of tweens, including a story on Lizzie McGuire, and a survey of the most popular shows among tweenagers.
The "Ultimate Cable" and "Ultimate Satellite" covers, especially those without large address label blocks and / or cable logo banners, is likely to be more valuable than the digest-sized covers.
As part of the Rugrats' 10th Anniversary, TV Guide gave the Rugrats not one, but four covers, each bearing one of the original Rugrats (Phil & Lil, of course, share a cover). Each cover has both toddler and tweenage versions of the characters. Inside the magazine are lots of pictures of the Rugrats (most of these pics of the tweenagers), plus a story on the Rugrats' past, present and future. In addition, a "Close-Up Family Find" spotlights the All Growed Up special, and the documentary that follows the first airing. As of 7/17/2001, there are reports that many retaillers (that put the new TVGs on sale on Mondays) are close to selling out early on this issue of TVG, because of the Rugrats covers. This is unlike the Rugrats' last cover appearance about 5 years earlier, when ample copies were still around by the weekend. It's likely that this issue of TVG will be a true collectors item in the long run.
Also, some areas will, instead, have a special cover memorialising the late country singer Chet Atkins.
All 5 TV Guide covers were designed by Steve Crespo, who was an artist in the early days of the Rugrats comic strip.
Gallery
You can find UCR Book gallery here.